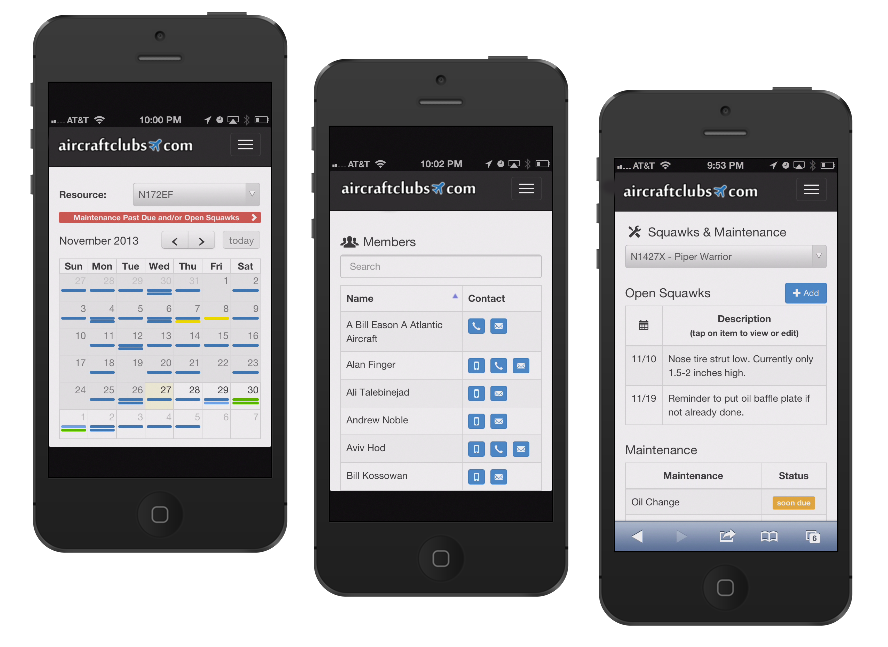 Your club, in the palm of your hand!
Make or change reservations from any mobile device
View the METAR for any airport in coded & decoded formats
Running late? Call or email members with one tap
Check the aircraft's maintenance status right before your flight
Back early? Receive prompts to send a club-wide 'early return' notification
Instructors, see your schedule of all upcoming appointments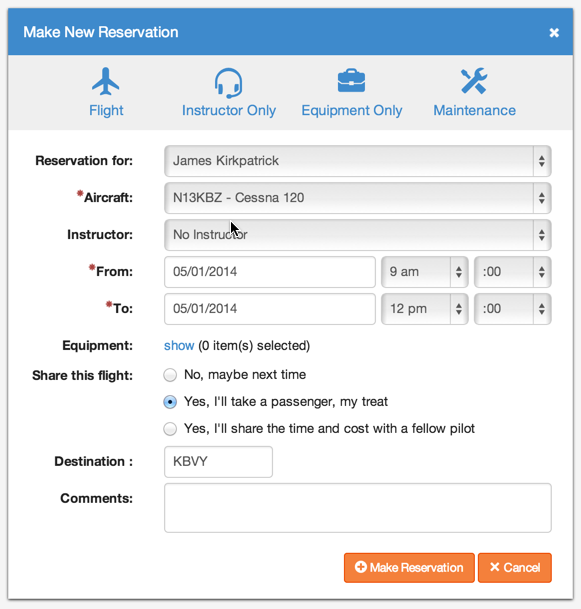 Maximize the flight time on your aircraft!
Members can make back-up reservations and will receive a notification if their reservation becomes active
AircraftClubs.com™ offers FlightShare™, which allows members to indicate if they are willing to share their upcoming flights, typically resulting in longer flights to more destinations
Members automatically receive next day reservation reminders (user configurable) to minimize 'no-show' reservations
One-click access to members' contact information from their reservation to discuss a shared flight or last minute schedule issue
Send pre-scripted cancelation e-mails to all club members to communicate last minute aircraft availability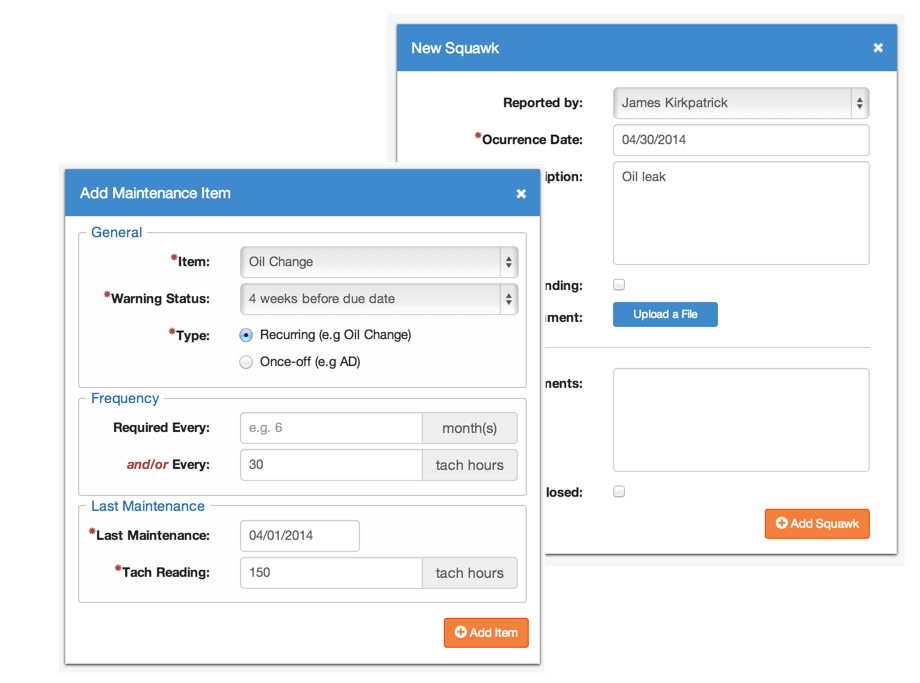 Keep your planes in great shape!
Log squawks, attach pictures to squawks and recommend the grounding of an aircraft
Customize the maintenance items by aircraft. AircraftClubs.com™ allows for tachometer and/or time based maintenance items
See the individual maintenance items' status and the overall maintenance status of your aircraft
Due dates for tachometer based maintenance items are projected based on aircraft usage calculations
The Maintenance Manager receives squawk and 14-day maintenance item reminders
Make aircraft unavailable to members by placing a maintenance reservation on the schedule
See oil consumption trends by aircraft from oil addition reports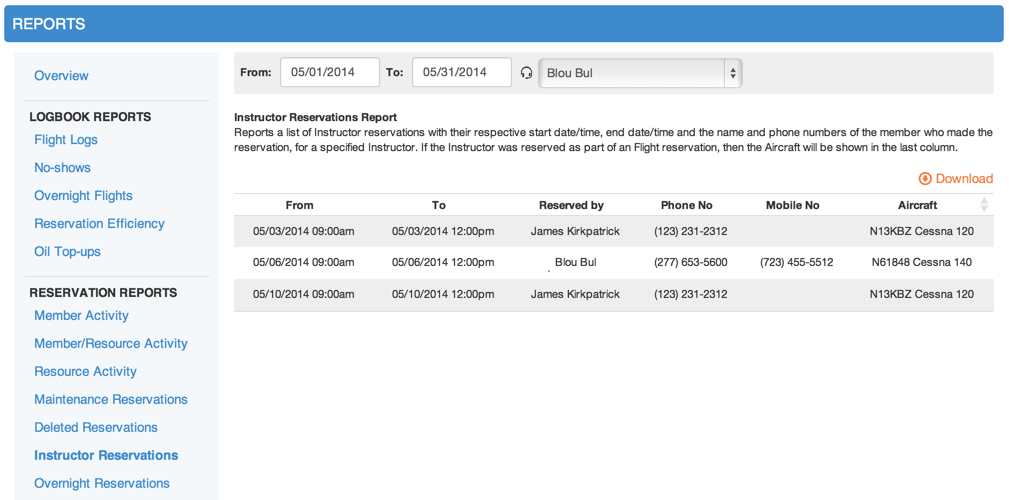 Simplify your day-to-day club management
Enforce scheduling rules
Robust user-management via roles e.g. Maintenance Manager, Club Editor, Super Administrator
Enforce pilot qualification based on medical certificate, biennial and club review expirations
Generate powerful reports e.g. No-show report, Member activity report, Days out-of-service maintenance report etc.
Export reports, resource and member details in CSV and PDF formats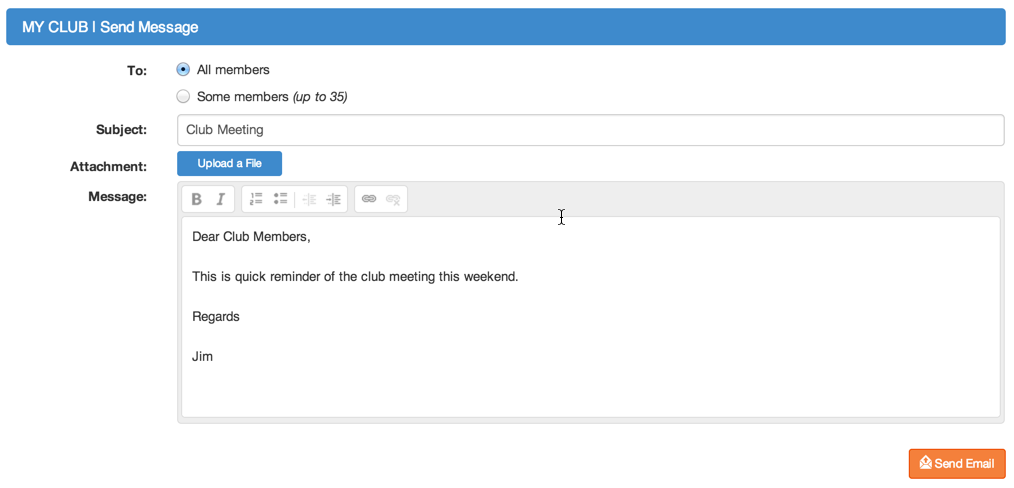 Communicate efficiently with your members
Access to detailed member information, including ratings, addresses and AOPA membership numbers
Smart searching and sorting of members
Send e-mail to some or all members directly from AircraftClubs.com™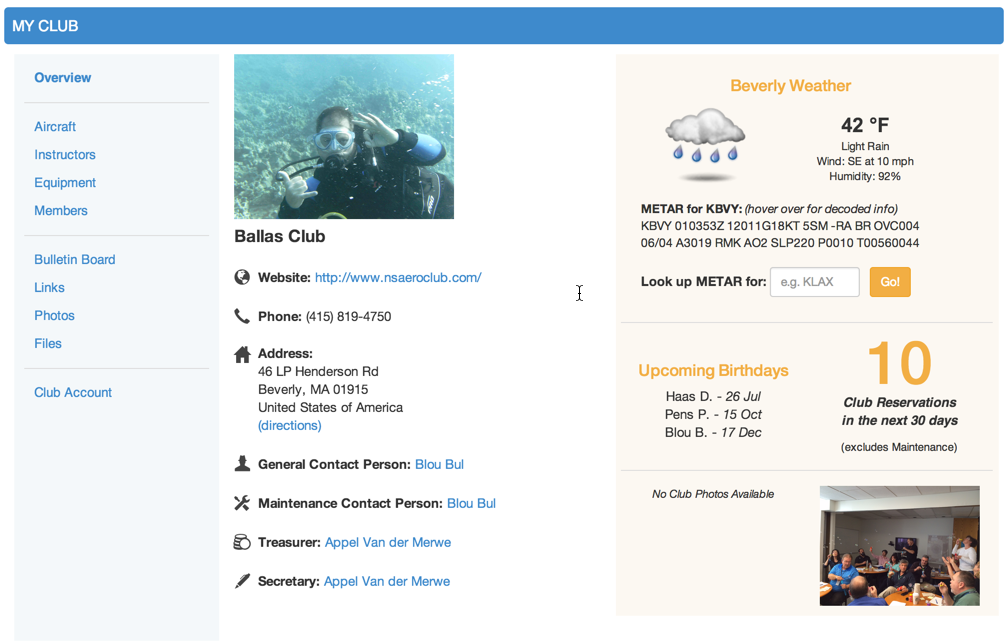 Members can share information and experiences through bulletin board postings, files, photos and web links
Your club overview page shows upcoming birthdays, the number of future reservations and weather
Members can join or donate to AOPA directly from their profile page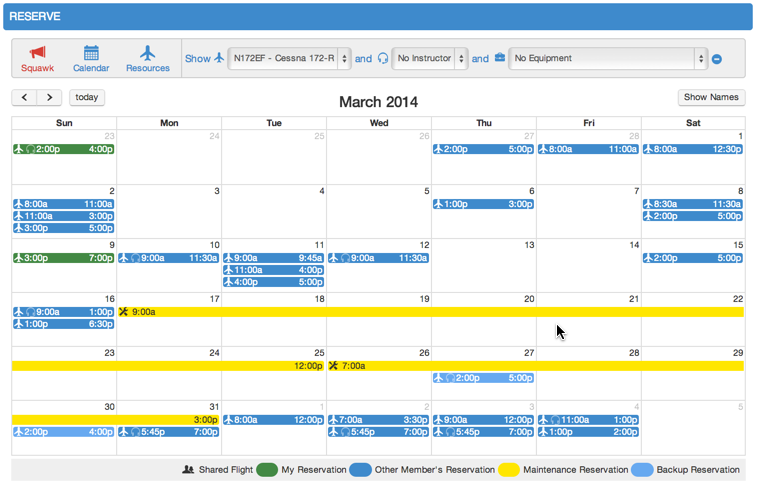 Give your members the personal touch
Members have different calendar viewing options and multiple ways to make a reservation
The calendar offers filtering by aircraft, instructor and/or equipment which is defaulted to a member's individual preferences
Detailed resource information is available including photos, manuals, equipment etc.
The My Flight section shows member's individual logged flight hours and no-show history
Members can choose to hide their contact information and to receive next-day reservation reminders
Securely available 24/7 from anywhere
AircraftClubs.com™ has encrypted password access and once your users are in the system, you decide what they can and cannot do via the powerful roles engine
AircraftClubs.com™ is a hosted solution and guarantees 99% uptime
AircraftClubs.com™ does complete, daily, off-site back-ups of all data
With AircraftClubs.com™ your data is safe, secure, available and recoverable - guaranteed!